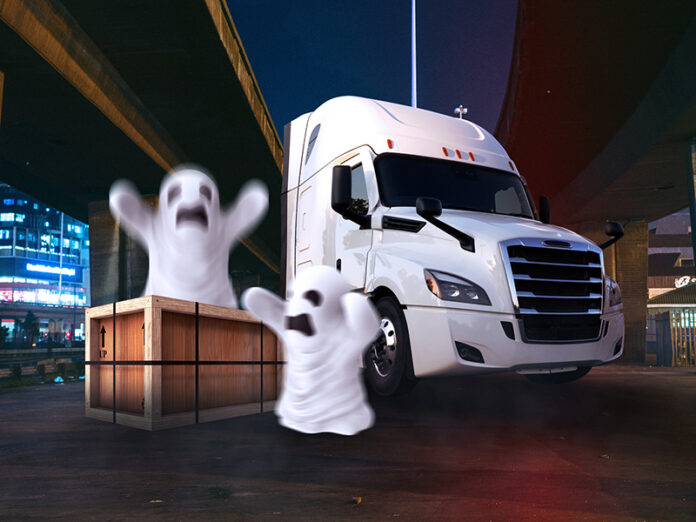 In a shocking turn of events, it has been revealed that a series of ghost loads have plagued the trucking industry. These nefarious loads are said to be controlled by mischievous ghosts who manipulate load boards to post inaccurate origin and destination information, causing havoc in the industry.
According to insiders, these ghost loads are a form of bait-and-switch, luring unsuspecting carriers into transporting goods that don't exist. The ghosts allegedly use double brokers and carriers of last resort with questionable credentials and safety records to carry out their sinister plan.
One trucker, who wished to remain anonymous, reported that he had unknowingly transported a ghost load from New York to Los Angeles. "I thought everything was legit," he said. "But when I got to the destination, there was nothing there. It was like the load had disappeared into thin air."
The ghost loads are causing chaos in the trucking industry, with carriers and brokers at their wits' end trying to weed out the fraudulent loads from the legitimate ones. Some have even resorted to hiring paranormal investigators to rid their load boards of the pesky ghosts.
Industry experts warn that if the ghost loads are not stopped, they could have serious implications for the entire trucking industry, with spot rates becoming increasingly unreliable and equity valuations plummeting.
When reached for comment, a spokesperson for the Ghost Union denied any involvement in the ghost loads and called for an end to the "demonization of the spectral community."
*All the posts on this website are pure imagination of writers, and they never happened. They are here for fun purposes only and not to give you advice. Keep your smile and stay healthy. Do not read while driving! Listen to our podcast instead 🙂